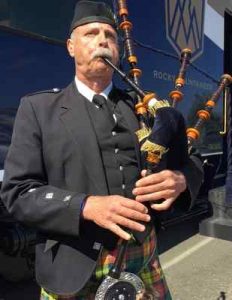 It was odd but unusually interesting recently with the unveiling of a sparkling new train coach by Canadian-based Rocky Mountaineer in the parking lot of a rustic-appearing Alstom company on Mare Island.
Only the playing of bagpipes could make this catered, media-friendly event any stranger.
Enter Fred Payne, a self-described "champion bagpiper" from Marin County who specializes in weddings, memorials, corporate events, parties and retirements. Train coach openings? In his 50 years on the pipes, it's a first, he said.
"Thinking back all the years, I've never played the grand opening of a railcar," Payne said.
Born in Orange County but raised in Oregon to escape the smog, the 61-year-old said he started this under-appreciated instrument at the tender age of 11.
"Celtic music has a unique character that I find thrilling," Payne said. "The music feels ancient, even tunes written within the last 10 years. I feel very connected to the music, probably because of my Scots ancestry. It is very evocative. Also, the vibration of the pipes resonates through the musician's body — a very powerful feeling."
As performing goes, "I really enjoy using the pipes to bring out the prevailing emotion of the day, whether joy or grief."
It was obvious joy to play at the railcar gig, judging by the grins of the roughly 35 Alcom employees who worked on the SilverLeaf coach and the Rocky Mountaineer staff attending.
Not a bad assignment, to be sure. But Payne said his "perfect gig" was a month with the San Francisco Opera, playing the bagpipe part in the world premiere of "Heart of a Soldier" in 2011.
"It was a great privilege to be an orchestra member during that time," Payne said. "Also, during my time with the opera, I had free run of the War Memorial Opera House. I felt like the phantom of the opera with fantasies of hiding somewhere at closing time and spending the nights inside. I got to know every corner of the building."
For the singular gigs, weddings come to mind, Payne said.
"Joy is the emotion that I most like to help bring out in people," he said.
An emotionally difficult assignment was leading a procession of police officers and firefighters while playing "Amazing Grace" in a 9/11 commemoration in 2010 with the California Symphony at Todos Santos Park in Concord.
"I felt there was a lot of potential for mistakes and the 2,500-person audience was intimidating," Payne said. "I felt rattled while waiting to go on, but it went off without a hitch."
As for uneasy gigs, "there was one instance involving a drunk bride, but let's not dwell on the negative," said Payne.
What is far from negative is the camaraderie of bagpipers, Payne said.
"There is a very close-knit society of pipers anywhere you go," he said. "It's a very tight community with many long-term friendships. We get together several times a year at Highland Games and other festivals and contests so everyone get to know everyone else."
The best pipers, continued Payne, "are closely connected to the piping community through the competitions. We learn a lot by association. Most good pipers have had a number of teachers during their careers and often have a current mentoring piper."
Two aspects of piping are difficult, Payne said.
"First, the instrument. It requires exertion making it difficult to relax the hands while blowing vigorously and squeezing the bag intermittently," he said. "The rhythm of blowing and squeezing is independent of the timing of the music. It never matches. It's like rubbing your tummy and patting your head at the same time."
Once past these challenges, "you have it for life," Payne said.
The music itself is also challenging, he noted.
"Piping music is full of embellishments consisting of one or more grace notes," he said. "Some are quite complex. So expressing a melody well while playing the embellishments well confounds many beginning and intermediate pipers."
Basically, "it's like chess," Payne said. "You can enjoy it greatly as a beginner, but it is very open-ended as far as skill goes. You can always accomplish a little more than you have to date. Somewhere, there is always a better piper."
Payne had a quick and simple answer to the No. 1 enjoyment of playing bagpipes — especially with a dreaded three-year job at a call center in his memory banks.
"I don't have to work," he said.
For more information, email FrPiper05@yahoo.com or call (510) 926-0579.