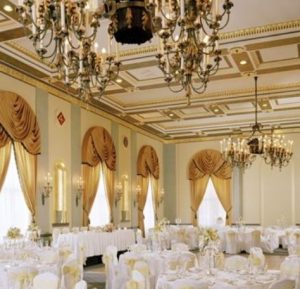 Last night was exceptional. VFA-154 Black Knights, whose members fly F-18s is based in Lemoore, California. They have functions called "dine outs." They arrange for a classy venue and hold a lively banquet, full of raucous surprises and bold, ribald ceremonial wildness. These men and women are in the prime of their lives and have what many consider the world's best job; flying really fast jets, armed to the teeth with firepower. These are people who are really "living large," full of confidence and "vigor," as JFK used to say. So when they go out to cut loose, you bet they really do that large too. Dress uniforms, dates in gowns (suits on male dates – there ARE women aviators), lots of booze and crazy fun, while maintaining an unmistakable decorum.
Last night's dine out was at the Marines' Memorial Club and Hotel, 609 Sutter St., San Francisco, a gathering place for local and traveling military personnel of all ages and rank.The place is loaded with historical mementos of all kinds. The help is especially respectful and the guests have a certain bearing, a way of looking you directly in the eye, fearing no man. Late in the day, most of the elevator rides are to the 12th floor, where the bar looks out over the City.
After cocktails, I kicked off the 7 o'clock dinner hour by piping in the head table. But my primary function was to process in the person who presents the beef to the presiding officer. He tastes the food and pronounces it "not fit for human consumption," at which time some punishment is meted out. Last night, guys stood up and shot the "chef" (actually one of their own pilots) with nurf guns. One was actually an automatic with extra ammo clips (shouts of, "Reload, reload!" and fresh clips being tossed). Fortunately, the presiding officer then changed his mind and pronounced the beef "fit for human consumption," everyone cheered, the "chef" resurrected, and piped out the door. As I changed out of my uniform in a nearby room I heard wild shouts and cheers issuing from the banquet hall. Bless you all, ladies and gentlemen of the Black Knights and thank you for your service. Whadda party!